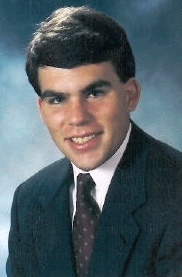 Despite being the son of an English teacher and dating a poet for nearly five years, Alexander Feltham has never been deeply involved in the literary community. In explanaton, he ironically offers "malt does more than Milton can to justify God's ways to man", quoting a favorite poet in the process.

Born and raised in the enveloping hills and valleys of upstate New York, divine Providence led Alexander to Rhode Island and Brown University, where he graduated with a most unlikely degree in sociology in 2001. Although a piece of his heart remains in the Ocean State, he followed the remainder back to New York's Southern Tier, where he once again resides.

He enjoys such nonpoetic pursuits as Formula 1 motor racing and is a die-hard hockey fan, with much of his free time from October through April spent in an ice rink somewhere in the Northeast. As a reader and writer, he has always been drawn to works of nonfiction. Poetically, he enjoys highly descriptive yet efficiently written works which emphasize sound and rhythm.